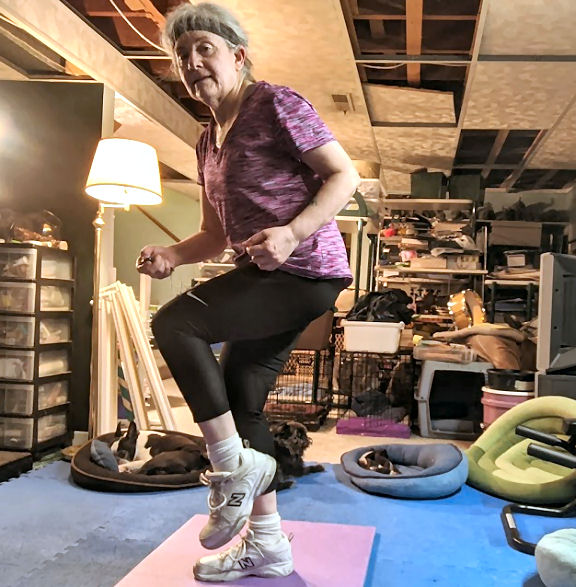 I've written before about the many benefits of exercise, including brain health benefits. One of the main reasons that I exercise is to boost my mood. I have a tendency to be a gloomy person. If there's a dark side to a situation, I'll find it. Likewise, I hardly ever expect things to go well – any things. It's always a pleasant surprise when things go right, or the way they're supposed to. I exercise to counter my natural inclination.
I'm a natural pessimist
Here's one example. I recently received a notice from the IRS that my business had filed its tax return late and was being assessed a hefty penalty. Of course, the return was not filed late and I had documents to prove it. But I did not expect to be able to reverse the penalty. I called to speak to an agent, of course and had to wait an hour for the call back. I was on tenterhooks the whole time I was waiting. Distracting myself with menial tasks helped somewhat, but I was still sweating when my phone rang.
Even though I did not expect a good outcome, I was pleasant to the agent and figured out how to fax (yes, FAX! – who has a fax machine these days?) copies of the documentation to her while I was on the phone. To my complete surprise, she agreed that the penalty should not have been assessed and removed it. Talk about things going right!
But in the normal course of things, I expect that clients will cancel their appointments. And that their checks will bounce. That hasn't happened yet, thank goodness.
My mood remains upbeat – exercise does that!
My mood, though, remains upbeat. Even when I expect things to go wrong, I try to have a smile on my face. And I attribute my ability to maintain a positive attitude to exercise. The Cleveland Clinic has shown that exercise causes elevated levels of endorphins, those hormones that improve your sense of well-being to be released in your body when it's under stress.
A lower rate of depression and anxiety is attributed to exercise. Also, in the long term, people who exercise tend to have more low-key responses to stressful events. I'm firmly convinced that exercise helps keep me in a happier state and, therefore, more resilient.
Exercise helps reduce depression
Another study showed that being active can help with depression specifically. The effects of a combined meditation and exercise routine were studied as the program related to depression: Twice a week, people with severe depression took part in 30 minutes of meditation and 30 minutes of moderate-intensity aerobic exercise over the course of eight weeks.
The result? Improved mood and decreased depression. (They tried this same method on patients who weren't depressed, and they felt better, too.) Notably, the participants experienced neurogenesis (growth of new brain cells) — something that's typically inhibited when someone has depression. Specifically, the growth of new neural cells in the hippocampus (the part of the brain responsible for learning, memory, and mood) plays an integral part in how your mind fights depression and controls mood — and aerobic exercise can greatly increase the number of cells produced there.
So, I'll keep on exercising. It will boost my mood and my family will like having me around more.