You remember that old (1986!) song by the Bangles – "Walk Like An Egyptian." The video showed performers doing fun, light steps, with straight legs at first, then a deep bend in the knee. Well, don't do that in the winter. Instead, walk like a penguin to prevent falls! That's the best way to keep your balance on slippery surfaces.
Freezing and melting and refreezing
This winter has been rough. Here in Chicagoland, February has been extremely cold and snowy – we've had about 30 inches of snow this month. But the last few days have been warmer, so there has been melting and refreezing. And those refrozen pavements are extremely slick. The last thing we want is to fall on the ice.
Penguins have it right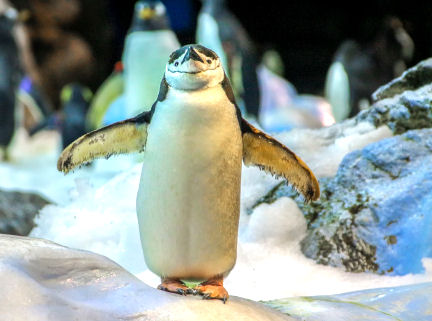 Think about a penguin's anatomy – they have a very low center of gravity and their legs are short. When penguins walk they hold their wings out to the side. And they hardly ever slip on the ice and snow they live on. So, the best way to stay upright on slippery surfaces is to walk like a penguin:
Think "heavy." We can't do anything about where our actual center of gravity is, but focus your weight in your hips.
Keep your center of gravity directly over your feet. Don't lean forward or back.
Don't bend your knees much when you walk.
Take short steps.
Point your feet out a little bit.
Don't transfer all of your weight to your front foot at once.
Go slow.
Hold your arms to the side.
Waddle – shift your weight side to side with the foot that that moves.
The Mayo Clinic even wrote that walking like a penguin is the best way to stay safe on ice: http://www.winmedical.org/press_room_article/walk-like-penguin-avoid-wintertime-slips-falls/
Every year the "memes" make the rounds of social media. But that's because it's good advice. So pay attention to those fun diagrams. And for more tips on preventing falls, see: https://fitness-over-50.com/2017/07/prevent-falls-my-interview-with-kathleen-cameron/