Being an adult means …
Don't feel like it. No how, no way. But part of being an adult is doing stuff you don't want to do.
We had a plumbing problem a couple of days ago. One of the drawbacks of living in an older house is old plumbing. About 10 years ago we re-piped most of the house with pretty new copper pipes because we redid a bathroom and had to open walls. All the galvanized pipes that were reachable were replaced.
But the kitchen was not included in the re-pipe. So the kitchen had 60-year-old pipes. And those pipes were prone to clogs. We'd been able to deal with those clogs up until a couple of days ago. Nothing we did solved the problem. We could not reach that stubborn clog.
We undid the pipes we could reach and cleaned them out. We tried using a water blaster. Nope.
Next day …
So we put the problem on hold until the next morning because there wasn't anything else to do that night. I washed the dishes in the bathroom and my sister called the plumber. The dogs were confused…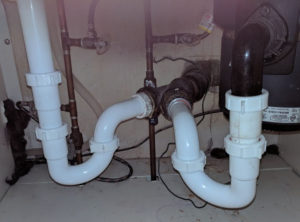 And now, we have brand new pipes in the kitchen.
But the point is that our plumbing problem was not going to go away by itself. And nobody else was going to solve the problem. We had to be adults and figure it out.
What an adult does
Besides being able to do what you want to do when you want to do it, being an adult means making sure the bills get paid on time. Taking the dogs out on schedule.
Being an adult means eating healthy (most of the time) so that you can live a long and fulfilling life.
And being an adult means working out when you really, really don't feel like it.
And when it's done it won't be weighing on you. You won't have to remember it for tomorrow.
And being an adult means you get to do everything all over again tomorrow.