I know it's trite. But lately every face I see walking down the street is glum. A restaurant is next door to our little shop, and people should be looking forward to a good meal, meeting with friends or family and having a good time. But many are frowning, having arguments with the people they're with, or yelling on the phone.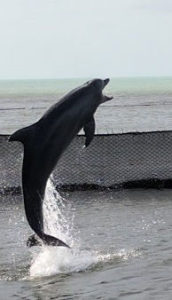 That doesn't sound like a good time. It might even be bad for the digestion.
Yes, the world is upside-down in many ways these days. The country is divided and hardly anyone seems happy. Or even content. Traffic is a nightmare. Your boss is toxic.
So let's make our own contentment. Take a look around. If the sky is blue, enjoy it! Or, if there are interesting cloud formations, enjoy that.
Appreciate the flower by the side of the road. Enjoy the cool feeling when you swallow a sip of water.
Look at that dolphin in the picture. He's doing something he loves doing! Jumping! I took that photo the last time I was at Dolphin Research Center in Grassy Key, Florida. The overwhelming feeling I get every time I go there is joy. I must remember that feeling when I'm overwhelmed by other feelings. Remember that joy!
And I must look around and find something to enjoy! With a little practice you can do it too.