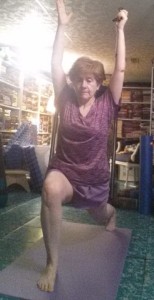 Are you bored with your routine? Then it might be time to switch it up! I was doing one kind of workout for months. I enjoyed it, but I kept resisting going downstairs to push "play." I found one excuse after another until there just wasn't time to work out. And that led to bad eating habits, too. My portions got bigger, the foods were not as healthy. It was a downward spiral.
So I decided, "I'm an accountability coach. I should be able to figure this out!" I switched to a different workout program. And I started following the nutritional guidelines for that program. And 3 weeks later, I've lost 4 pounds and am not bored. I need more carbohydrates than this meal program allows, to be happy, so I'll add more from time to time. I don't snack, as a rule, so that's a plus.
I don't like this workout program as much as the one that I had been doing, and that could be a problem. It's harder on my knees, and that's another problem. But I'll modify the moves that I feel are bad, and just keep pushing "play." And then when I get bored, perhaps I'll rediscover that first workout and stay motivated!