These are the things I love and believe in. They work for me. (I may receive some form of payment if you purchase through a link here. Please know that I will ONLY put a product on this page if I seriously use and love it.)

I often wear the tank with this design when I work out. It's a hefty but extremely soft cotton and so comfortable! I created the design and it's available in Cafe Press.
Cute French Bulldog workout tanks and t's, water bottles and more!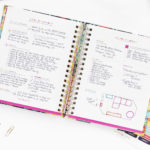 The Living Well Planner can help you get on track, stay on track, meet your lofty goals and schedule your happiness. Keep track of appointments, events, reminders. You start where you are – there are no dates printed so you can write the dates you're using the planner. Track your achievements on your way to meeting your milestones. Even plan menus! Hard bound but stays open with a spiral binding. This is a planner you'll use!