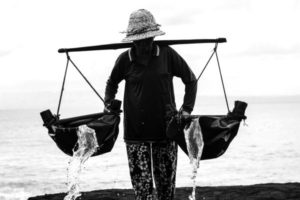 It's impossible to do it all and achieve balance
It's literally impossible to do it all. You're trying to balance all aspects of your life, and there's just too much. Work and family. Chores and friends. Clean out the closet. Read that book. Train the dog. Go grocery shopping. Sleep and everything else. Something's got to give.
What gives is you …
There just are not enough hours in the day to complete everything. Usually when that happens the things that don't get done are the things most important to you.
Should other things come before you?
You put family first. Your home. Your job. All those things are important, certainly, but without you, your health, your sanity, you won't have those things.
Balance is the key
The only way to keep your sanity and stay happy and healthy is to have balance in your life. Balance work and family. Balance your chores with your friends. Don't spend an hour a week training the dog when just a few minutes every day will give you immeasurable progress! Get the family involved! A shared load is an easier one. And if everyone helps, they'll all have an investment in the outcome, ensuring its success!
How to get balance?
So, how do you achieve this balance? Prioritization is paramount. Write everything down that needs to get done. This will probably take the longest! Prioritize tasks. Make notes on who can help you with them. Call a family meeting and let everyone know that you're feeling overwhelmed but that they can help you! You may be surprised at your family members' willingness to chip in. Especially if you break jobs down into very small, specific tasks. If something seems like it won't take a long time, it'll get done!
A calendar will help
Now that you have your tasks, schedule their completion! A big wall calendar will keep the whole family on task. And if everyone writes in their jobs, their investment will continue and things will actually get done!