Are you retired? Still working? Working on not working? Regardless – it's important to set goals for yourself. The way we grow is to set goals and challenge ourselves, in whatever area we choose. And, don't limit yourself to one area. If you're still working, great! Set goals – big and little – for yourself professionally, but also personally.
I work for myself in a number of enterprises. I set goals for the business and for myself. One goal is to create a course relating to self-discipline that my readers (you!) will find useful in your fitness journey. My sister tells me that I have more discipline than anyone else she knows, so hopefully that expertise will help others. I'm writing my modules and hope to have a course by the end of the summer.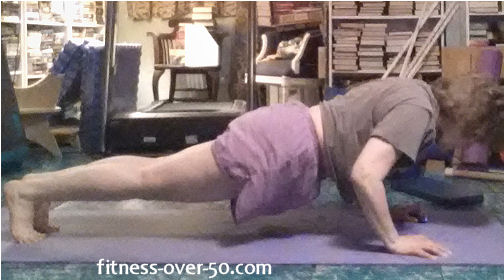 Another of my personal goals is to complete 10 regular pushups (from my toes). Pushups from my knees are no problem. And incline pushups are easy as well. I'm at about 4 or 5 regular ones now, so I'll keep working at it.
To grow means that there's work involved. Many people think the word "work" has a negative connotation. Meaning that work is bad. I don't see it that way. Work is serious, yes, because my goals are serious to me. It's hard. And work is challenging. But it can be fun. And the results: downright delightful.
I have fun when I work. I try to have fun all the time. Just because I'm trying to accomplish something doesn't mean that I can't have fun with it. Fun makes the work easier.
Big goals
When you have a BIG GOAL, it can seem intimidating and not at all fun. The secret to achieving that BIG GOAL is to chop it into smaller, more manageable goals and incorporate some fun into it if possible. And big goals can seem crushingly hard, unless you're committed to its success. I wrote about that just a couple of weeks ago.
For example, if, as my sister and I did, you had to move all of your grandmother's things into your house and then, after living with the clutter for a couple of years, decide to declutter – that's an impossible goal to manage all at once. So we thought about the best way to tackle the job and came up with the strategy of: one room at a time, in fifteen to twenty minute chunks.
We started with a corner of one room, set up our three stations: throw away (for things that we could not see anyone having a use for, ever), donate (for things that we couldn't see ourselves using) and keep (for things we couldn't bear to give up). We worked for fifteen minutes every day, and in a matter of months the job was complete.
A side note: don't ever feel badly about keeping something when you're trying to declutter. You're entitled to your feelings. Think about the item. Will you be sorry if you never see it again? You can always get rid of something but you can't get it back.
And the goal of losing weight. If you have more than 3 pounds to lose, that's a BIG GOAL. It's hard and needs to be addressed as a true achievement. Intermediate goals should be set and addressed.
Little goals
I practice my balance every day by standing on one foot for a minute while I brush my teeth. That's a total of two minutes, which is how long we're supposed to brush our teeth. My little goal is to not put a toe down before the time is up. My reward if I'm successful? Well, in this case, just the knowledge that I'm growing stronger and my balance is improving. I've been doing this long enough that the exercise is a habit.
But your little goals can range from substituting a piece of fruit for the candy you usually eat in the afternoon, to focusing on work for an extra five minutes. And then reward yourself with a big stretch or an extra round of Spider Solitaire.
My goal of 10 regular pushups is a medium-sized goal. It's big enough that it needs to get chopped up and intermediate goals set, but not big enough that it will take months. And when I reach that goal? I'll think of another.