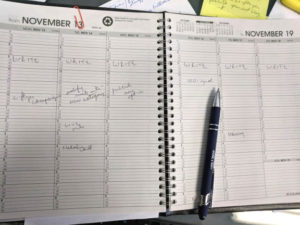 Yup, that's me! My sister says I'm not lazy, but here it is, more than a month since I've posted here and I feel terrible about it.
Paper and pen!
I have tried to be consistent, but obviously that's not working on its own. I need help! So I'm going to be using a real, paper, appointment book, and using pen and ink, to remind me every day to write. I may not post here every day, but I'll be writing and polishing.
They say that you have to do something consistently 30 times or so before it becomes a habit. The same thing, at the same time every day. I've gotten to the point where exercise has become a habit. I don't enjoy it, but it's a habit, and I feel like something's missing if I miss more than a day of exercise. I don't even have to schedule it on my calendar.
So, I'll be writing my little heart out every day at 9:00 in the morning for about a half hour.  I don't know the topics, yet. Very often I just "write off the cuff," as it were, and that could be the problem. Too often I think to myself, "I should write a blog post," and then can't think of a topic… What might work is keeping a topic list and consulting that when nothing occurs to me.
Organization module?
I've toyed with the idea of having an "Organization" module – heaven knows I need one that works for me. I've tried many, and have been enthusiastic about it at first but it becomes too much and I drift away.
I've discovered that part of "Fitness" is having a fit mind – and if I'm completely disorganized, I feel that I'm falling down on my fitness.
So, anyone out there who's reading this – how would you feel about including "Organization" as part of "Fitness?"