Mountains, rivers, streams …
I'm still recovering from my marathon driving trip through more than ⅕ of the United States. Booker and I traveled through 11 states in 13 days. Over mountains, over rivers, over bays, over the Gulf of Mexico, over the Atlantic Ocean, over bridges, and through countless construction zones. Healthy traveling is not always easy, but I did my best.
The hard part
I disposed of Hurricane Irma-damaged items from our storage unit in Marathon, Florida, and packed the rest in my Subaru Forester to bring home. I cleared the unit out completely.
The good part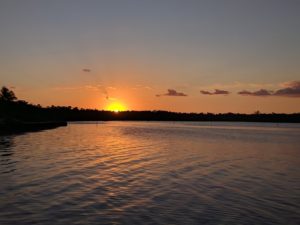 I ate some delicious local seafood and maybe the best pressed Cuban sandwich ever! (Not at the same meal.)
I visited good friends in Marathon and heard of their hurricane horrors.
Other friends and I shared our experiences with our soon-to-be all-natural gray hair. We each stopped coloring our hair at about the same time.
Saw some incredible sunsets over the Gulf of Mexico while I was in Marathon. Met Katie and Adam, a cute couple staying at the same hotel, and took their sunset-kiss picture, now used as Katie's profile picture.
Had wonderful down-time in late afternoons for a few days, just reading and watching the waters of the Gulf. Booker didn't quite understand, but he was willing to lay on his cot and get treats for doing nothing.
After a few great days in Florida, it was time for the next phase of our trek. On to Virginia and a new puppy!
Puppy time!
Booker's six years old and Tango is nine. The other dogs in the household (my sister's Frenchies Teddy and Torque) are 8 and 4, so the time for a puppy is now! We'd never had two Boston Terriers at home at the same time, and thought that the dynamics would be good. Booker would have another Boston to chase, and to chase him. He's always trying to get the other dogs to chase him, and it never works.
The breeder who showed Booker's father to a breed win at the Westminster Kennel Club show had a couple of 10-week-old little boys that I could choose between, so that was an opportunity not to be missed! I figured that I could swing up to Virginia on my way home to the Chicago area.
The bad and ugly
Arriving in Brunswick, GA after driving for 8+ hours that first day leaving Marathon was a nightmare. I had reservations at one of the moderate chain motels. They mistakenly put me in a no-dog room, and when I inquired about it, they moved me to a dog room. OK. I understood…
Except that this room smelled, and the locks didn't work. I complained about that and the manager checked me out. Yup – kicked me out. Homeless on the streets.
Brunswick is not a bustling town and I was able to get a room at a dog-friendly motel a couple of miles away. (That reminds me – I should post a review about that first motel.)
Destination reached!
Another 8 hours of driving the next day brought us to Chesapeake, VA. I could have continued the final hour to the breeder's home, as she kindly offered me her guest room, but didn't want to impose for an extra day.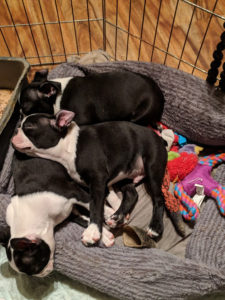 Early the next morning I drove to the breeder's house. It's on a beautiful street, with established homes and mature trees. I wasn't entirely sure which house it was because the numbers on the mailboxes were mostly worn. But then I saw her van in the driveway with a license plate that was unmistakably that of a Boston Terrier owner. I parked next to her, walked to the door and rang the doorbell. After a bit she opened the door, exclaimed that I was there and gave me a big hug. Her husband, who was traveling, called at that moment to let her know that someone was at the door. The wonders of a "Ring" doorbell!
Booker and I were warmly welcomed, we met the puppies, and thoroughly enjoyed the day.
Long trip home
Our trip home was completely uneventful (thank goodness!), but long (16 hours over two days) and inconvenienced by much construction on our route. The puppy was a champion traveler and slept for much of the drive. I was very happy, though, to park in front of my house and not get in my car for over 24 hours after that!
Takeaways for you:
Things to keep in mind when embarking on a long trip:
Keep your cool! Everything can be worked out. One way or another. Breathe deeply when things don't go as planned.

Family comes first. When things didn't go right, foremost on my mind was keeping my dogs safe, cool in the heat, exercised and fed when needed.

Stay fueled. It's much easier to keep your cool when you're not starving. Fortunately, on a driving trip it's no problem to keep healthy snacks on hand – for both my dogs and me! And healthy meals are easy to find. Salads are great, with healthy proteins included. If you're using really good quality ingredients, minimal dressing is all that's needed. A dip of my fork's tines is plenty. As for the car – I'm a bit cautious, and look for a gas station when the needle creeps close to ¼ tank.

Exercise when you can, but don't stress about it. When I'm back to a regular routine, I'll get back to intense exercise. Walking while on vacation is the best way to see new places, meet fun people, and work off that full feeling.