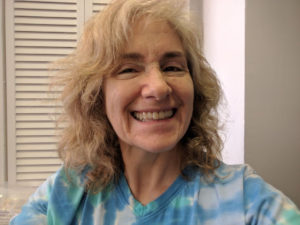 Hi! I'm Fran. No secrets here – I'm 66 years old! I've had many "lives." I was an accountant by training and spent almost 20 years in the corporate world. My family had a small independent bookstore that I helped out at, so when I was downsized, I turned to bookselling full-time. But, like many independent bookstores, ours had to close. My sister and I found another niche in providing solutions for small dog owners. We've owned small dogs most of our lives, so know their needs very well!
You've seen me posting sweaty selfies, yoga poses, more active exercise shots… Time for a confession. I don't like working out. I never have. I was never a gym rat. I did not want a career in fitness. I cut PE class in school.
I was a fat kid. My parents loved me, and never said that I was anything but perfect to them. But I was bullied and made fun of by other kids. And there are no more evil people than your schoolmates. Until the summer of my freshman year in high school, when I decided I'd had enough. I jumped rope on the back porch at home for hours. And I lost the weight.
It wasn't easy. It still isn't easy. It's darn hard. I still have struggles. I have physical limitations. Bursitis in both hips. Sciatica. Bad knees. But I push "Play" 5 days a week, and watch every bite that goes into my mouth. I train my dogs in obedience, rally and agility, and compete with them. I feel great and have loads of energy. My posts, or articles, center mainly on giving you the motivation you need to exercise regularly. Be good to yourself – it's all about healthy aging. And I want to be as healthy and fit as I can be at any age. Not for looks, but so I can do the things I want to do. Do you?
A few years ago I lost my balance and fell outside. Hurt my knees, triggered that bursitis and sciatica. During that long period of pain and physical therapy, I learned that part of the reason that I fell may have been the natural phenomenon that occurs as we age. Our balance diminishes without conscious work. I researched, interviewed experts and came to the conclusion that it is possible to increase your balance in just a couple of minutes a day. I created the "Week of Balance" that you can download for free.
Are you tired all the time? Do your knees hurt? Does your back hurt? Do your hips hurt? Are you losing your balance frequently? Are you tired of being tired? Are you tired of the pain? That was me a few years ago. That's why I want to help others with the same issues. I want to help others feel great and have loads of energy. Contact me – I can help you! And we'll keep each other honest.