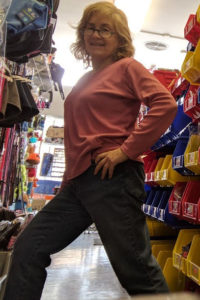 I have a (mostly) sedentary job. I work at a computer, so I'm sitting most of the day. When you reach a certain age … you expect to get stiff and for things to fall asleep if you stay in one position for too long. And when you have bad knees and bad hips, you KNOW that you're going to be stiff when you get up. But it doesn't have to be that way, if you're diligent.
Get up every hour and walk around for a couple of minutes. It doesn't have to be a long march around the block, or a hike in the woods. Just for a couple of minutes. I walk to the front of the shop and back a couple of times (our miniscule shop is less than 500 square feet). That's all it takes for me to feel looser. But on nice days, I might take the phone with me and walk outside a little bit. A little Vitamin D helps too! If your hips feel especially tight, stretch out those hip flexors, like the stretch in the photo. I feel this where my hand is.   And take a drink of water every time you sit back down – you'll need to get up in about an hour! So, how does getting up and moving around help?
Get up and move around to loosen things up! Yes, it works. The hips are definitely looser and the knees are working better.
Get rid of the clouds in your head. You'll think better.
That problem you've been pondering has had a chance to settle itself in your brain without you consciously thinking about it.
That email you were waiting for has probably reached your inbox.
You'll have a better outlook on things. The world of doom and gloom might look cheerier after a short walk. You may see something to make you smile. You'll at least gain some perspective after a change of scenery.
I hope you try it. Set a timer for an hour each time you sit down if you lose track of time. Your hips and knees will thank you.