Don't dwell on the numbers. They don't matter (except for Medicare and Social Security, and taxes). You've heard the old saying, "You're only as old as you feel." Yes, some days you might feel creaky or fragile and feel like you're a hundred and two. I know I do. But I try not to let that affect my activities for the day. I may move a little slower on those days, but I try to keep on moving.
Don't get stuck in the ground
Because stagnation will make you plant roots. And while some roots are great – like friends and family, a home that you love or a community that keeps you grounded. But other roots will make you sluggish and slow. And make you feel that you really can't do what you want to. Just because you're 50, 60 or 70 – that doesn't mean that you're unable to reach your goals. Don't think about the dwindling number of years you may have left. Think about all the great days ahead of you.
Workout choice to fit my feeling
Yesterday I admit that I was feeling a little funky, but I knew I'd feel guilty if I didn't work out as I planned. I chose a favorite non-impact Pilates workout. By the time the half hour was up, I felt much better. This is a workout that focuses primarily on core strength, but uses resistance bands to really challenge you. Familiar moves like "The 100," and "Circle Teaser" are taken to the next level with those bands. So, in addition to your core being strengthened, your arms are getting stronger too.
Side Plank Star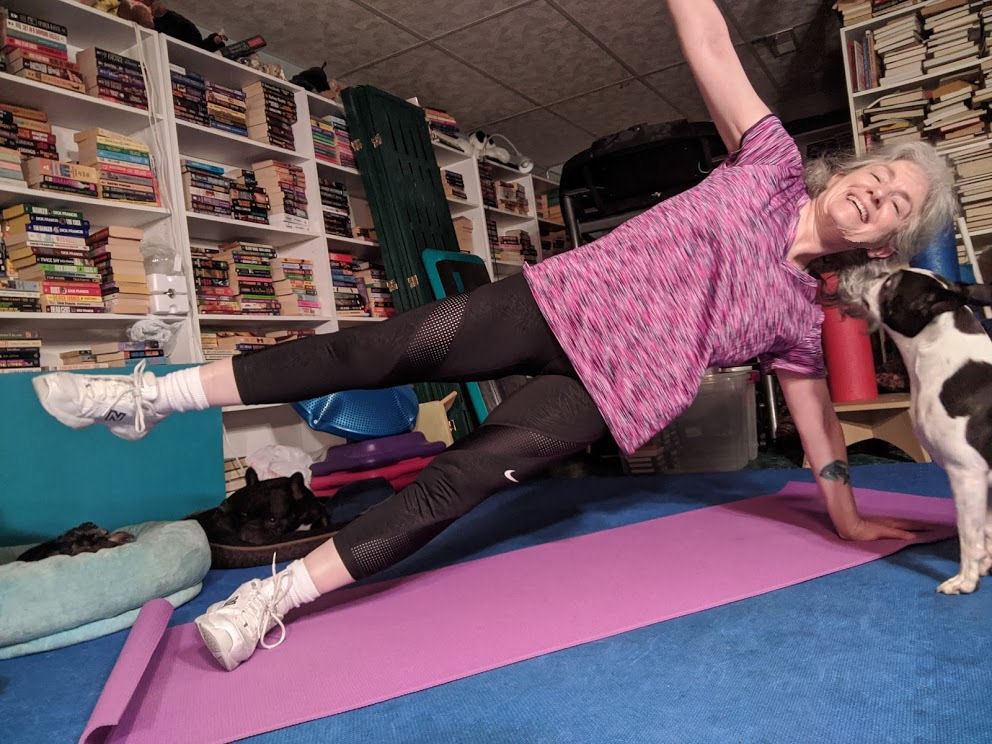 When the workout was over, I felt so much better that I decided to try and do the Side Plank Star move that I had a photo done a few years ago. This move uses the core, the legs, the arms … just about everything. It's a fun move that challenges your balance as well. Plus it looks cool. (Start in a side plank position and lift the top leg. Be sure you're on a non-slip surface.) So yesterday, I started out feeling like I was 100 years old, but ended up much younger than that!