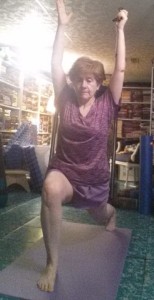 I love PiYo more than any other workout program. There, I said it! It takes the best of Pilates and Yoga and combines them in a low-impact, high-intensity body transformation program that will help you burn fat and sculpt long, lean, toned muscles.

There are no weights and no jumping, but you'll be moving every minute of every workout. There are 8 workouts plus a bonus workout on 3 DVDs. No equipment is required, but I use a yoga mat so my feet don't slip. Even with my bad knees and hips, I can do these workouts. Beginners can follow an on-screen modifier. Most workouts are under 35 minutes.
An eating plan is included so you can keep your eating honest as well!
No running, no jumping and you get strong! It just gets better!
2 more workouts are available – the Strength Series! Designed to be used with the Strength Slides or rags, these will kick up your PiYo workouts to new levels. Your legs will thank you (long-term)!
Shakeology teams up with PiYo! Take your nutrition up a notch while you're toning your body. Shakeology is super-dense, all-natural nutrition that will curb cravings and satisfy your hunger. Combined with PiYo in a Challenge Pack, you'll save over the individually-priced items.