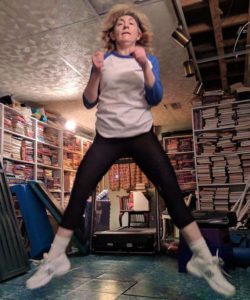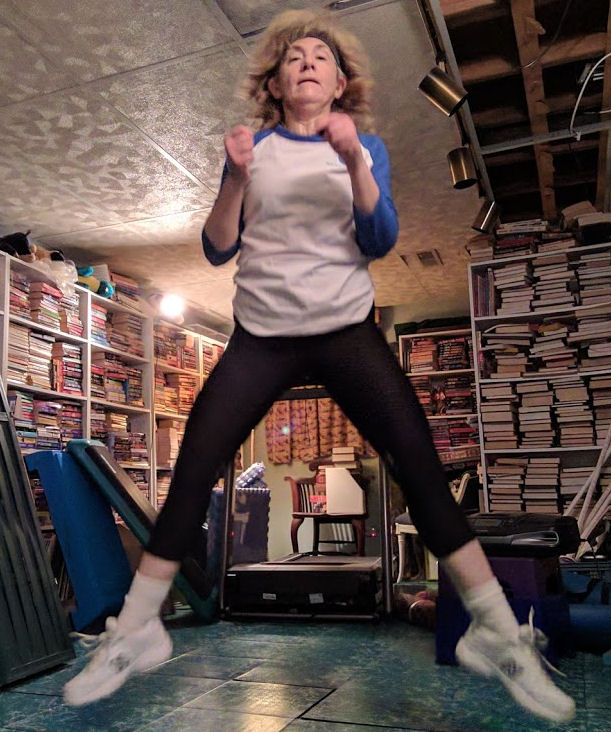 I've talked quite a bit about the fact that I exercise at home. No commute time. No one cares how my hair looks. No makeup. A tatty t-shirt and shorts. And the dogs help.
I live in a tiny little house in a Chicago suburb. Where do I exercise in my tiny house? In the basement. It is finished, and that's a plus. It's not mandatory – you can work out anywhere, but finished walls are nice. But my little exercise space doesn't even have a full ceiling – we had to take out some tiles when work was being done. No overhead lighting – a lamp suffices.
We did put in some kids' play mats on the floor, and that's helped my bad knees immeasurably! The exercise space is about 10 feet square. It could even be a little smaller.
That's really all you need to workout – a free space, good floor and enough light that you don't feel like you're in a cave. All the rest is luxury. What is essential, though, are good shoes for working out. Using shoes that don't support your feet properly can be uncomfortable, make your feet tired, or worse, cause an injury.
I like to work out using DVDs, so I have a TV and DVD player in my space. I've mentioned that I lost a lot of weight and gained a lot of strength with 21 Day Fix Extreme. Equipment needed for that is a set of light and medium or heavy free weights and a resistance band. Cheap enough, and easy to come by.  PiYo (Pilates / Yoga plus movement to music – another exercise program I use) really only uses a yoga mat. Some of the workouts use free weights, but they're not strictly necessary.
And when I'm done, I just go upstairs, strip off my exercise clothes and hop in my own shower. And that's the best!