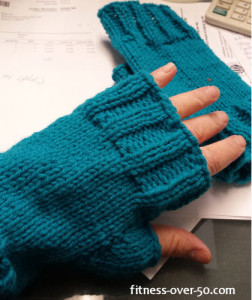 Knitting and other handcrafts are more popular than ever. And it's thanks in no part to the health benefits you derive from it. The Craft Yarn Council reports that a third of women 25 to 35 now knit or crochet. And now men are starting to join in!
Dr. Herbert Benson, a pioneer in mind-body medicine and author of The Relaxation Response, says that the repetitive action of needlework can induce a relaxed state similar to that associated with meditation and yoga. Once you get beyond the initial learning curve, knitting and crocheting can lower heart rate and blood pressure and reduce harmful blood levels of the stress hormone cortisol.
But unlike meditation, craft activities result in tangible and often useful products that can enhance self-esteem. A good idea is to take pictures of your end products on your phone – look at them to boost your spirits.
Another benefit is that when you're knitting or doing other hand work, you can't mindlessly eat – this cuts down on snacking. And if you're knitting, you can't smoke! Another health benefit.
I recently knitted a pair of fingerless mitts to keep my hands warm this winter. It felt really good to do something productive in the evening rather than just watch TV!