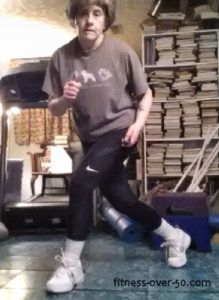 Here are a couple of easy tips. First, work out in the morning. You'll burn more calories! Why? Since you're more rested, you're probably working harder and you may be exercising a little longer. Fewer rest breaks, too. It's more convenient for me to exercise in the afternoons on most days. It's just how my day goes. I understand that I'm burning fewer calories, and I may be taking an extra rest break. But when I'm done, the stress from my day is gone and I feel so much more virtuous!
Increase your speed and you'll burn more calories! If you're walking or running, add in a sprinting interval and up the speed. You can do this even if you're doing a video. Double time it! And make sure you're swinging your arms – you'll up the calorie burn by as much as 15%!
See a flat surface? Do some counter push-ups! When you're picking up a few things at the grocery store, use a basket rather than a cart and you'll be working your arm muscles (biceps and triceps). Adding strength moves is a good idea since more muscle mass increases the calorie burn. Also, take the stairs when you can. Work your abs by sitting on an exercise ball rather than a traditional chair!