One ice pick for bursitis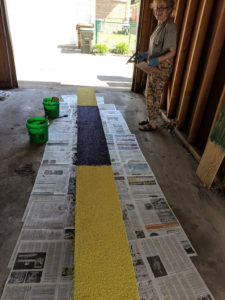 I've told you that I have bursitis in both hips. Bursitis pain? Think of an ice pick inserted into the hip joint. And then hit it with a hammer.
But, thankfully, my bursitis pain is under control … most of the time.
Another ice pick for sciatica
Add sciatica to the bursitis and it's really fun. Sciatica pain? Think of an ice pick jabbing you from your lower back down each leg. And you never know when that ice pick will strike.
And a combo ice pick
So when you mix sciatica and bursitis, you get spasms. Multiple ice picks going at your hips, your back, your legs. You can't move. You can't breathe.
You'd do anything to not feel that pain. A severe bout of spasms hit me a few years ago, and I started doing research on what, if anything, could be done…
Remedies?
Ice packs. Heat packs. A strange and kind of nasty potion of Certo and grape juice. Cortizone shots.
Temporary fixes at best. I wanted something long-lasting, so that I wouldn't feel that pain again.
I found that the solution is movement. Just move. Don't sit for an extended period of time.
Teeter-totter flare-up
You know that I enjoy training my dog in agility and competing with him, and my sister enjoys agility with her dog as well. The contact obstacles (A-Frame, Dog Walk, Teeter-Totter) are the hardest to train because it's difficult to train all the time on these obstacles. We don't all have the luxury of a big training area. The hardest is the Teeter – it moves, it's narrow, it makes noise.  My sister and I do have a back yard, and even if it's too cold or too hot to spend a lot of time training outside, a few minutes is doable. So we decided to build a Teeter. We've put together a base, and wanted to rubberize the board for better footing for the dogs.
So rubberizing the Teeter board was our project this last weekend. That's me in the picture above, with the just-completed teeter. You can't see the sweat, nor can you see the pain just starting to jab my hip and leg.
Yup – a dreaded flare-up of my bursitis and sciatica. I immediately (well, after my shower) resolved to get up every hour and move around. I hoped to avoid the spasms… I also resolved to stay hydrated. Hydration also helps to avoid spasms. Plus, I'd have to get up and walk to the sink to get more water. (Not to mention the washroom…)
It's been a few days, and, thankfully, no spasms. A little pain remains, and I'm still getting up and walking around every hour. It really does help.