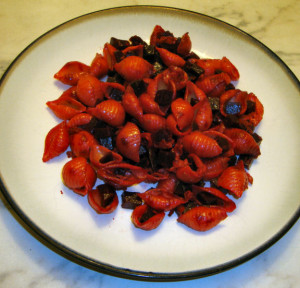 I'll tell you why it's so hard to eat healthy!
We're tempted at every commercial break by fast food and other fatty options. Our friends post pictures of delectable desserts and easy casseroles, filled with cream and butter. Driving down any street in America we're bombarded by multiple fast food restaurants in every strip mall. And even at family restaurants, the portions are huge! It's no wonder Americans are gaining weight.
What to do? Play with your dog during commercial breaks, or do a few crunches. "Like" your friends' posts, and eat those fatty concoctions with your eyes only. Drive right past those fast food restaurants! And if you're eating out with your family, split the entrée with someone else at your table, or take half home for dinner the next day. Before you even start eating, cut the portion in half and decide that you're taking the left (or right) half home!
It's not easy. I know it's not. And no one can decide for you that you're going to eat healthy. It's been a lifelong battle for me. All you can do is your best – I decide one meal at a time that it's going to be a good one, and I don't eat between meals. My sister is amazed that I don't snack – but I know, if I start, I won't be able to stop. Will power can be learned. All you have to do is judge for yourself whether you want that bag of potato chips or if you want to fit into those jeans…