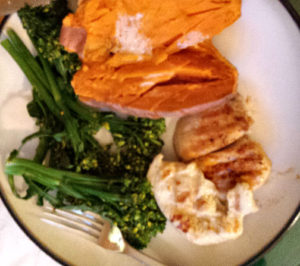 It's way too easy to zip in and out of a fast-food drive-thru on your way home from work. And that's really dangerous. The portions are way too big. The food has too many calories, and it's full of fat. It's deep-fried. If you're trying to watch your weight, and eat clean and healthy then drive-thrus are the most dangerous places on the planet!
Yes, french fries are delicious. Nothing can beat a burger and fries. Unless it's a burger and fries with a shake. But I always feel a little sick and bloated before bed when I indulge like that. And it's just not worth it. What is worth it is taking a few minutes to plan ahead for a delicious, healthy meal.
The first few times I planned meals for a week it was a real chore. Not fun at all. But then I wrote notes through the week about meal ideas and then I gathered those notes to plan the week's menus and it was no big deal.
The key to actually following through on the meal plan on busy week nights is to keep it simple. Like the grilled chicken, steamed broccolini and sweet potato pictured. I microwave the sweet potato, so it just takes a few minutes. It's done when the chicken is. I also use the microwave to steam vegetables. I do the potato first and wrap it in foil to stay warm and finish cooking. Delicious, nutritious and easy!