Some days are real downers. On those days, it's easy to see how some may become chronically depressed. You're so sad that even though you don't drink to excess, a cocktail sounds mighty good. At 2:00 in the afternoon. Not even the sunshine can cheer you up. Your adorable dog doing something amazingly cute can only make your mouth turn up a little. You don't see how you'll ever be happy again. But it is possible to pull yourself out of the dumps.
I'm not a psychologist, so I can only use myself as an example. But I'm pretty average, so it works.
My personal trash heap – Time to pull myself out of the dumps
The pandemic is still running rampant, but fortunately vaccines have been approved and are available. But not widely available here. I'm lucky enough to live in a Village that has its own Health Department which has vaccine clinics available by appointment. However, the supply in my area is extremely limited and the demand far outstrips the supply. I'm so happy that most people in my area want to get vaccinated, but every time I learn by email that supply is available and try to make an appointment, they're all gone. No appointments available at local pharmacies either. My friends have been vaccinated. My sister got her first dose. Even my 20-year-old neighbor got his. I know that I will probably have an opportunity soon, but in the meantime I'm sad and frustrated.
I hardly ever remember my dreams. But a couple of days ago I dreamed of my mom, who's been gone for over 20 years. I miss her every day, so it was great seeing her. I woke up and tears started flowing.
When I add my newer physical ailments to these things, I'm even more sad. Every so often my thumb joint hurts like crazy and it's hard to hold things in my left hand. It's good that I'm right-handed, but it's still painful.
Wallow? Not me…
So yesterday I felt myself wallowing. I decided it was time to pull myself out of the dumps!
I started with some deep diaphragm breathing. Sitting straight, bring air in through your nose and let your diaphragm inflate. Hold your breath for a couple of seconds, then breathe out.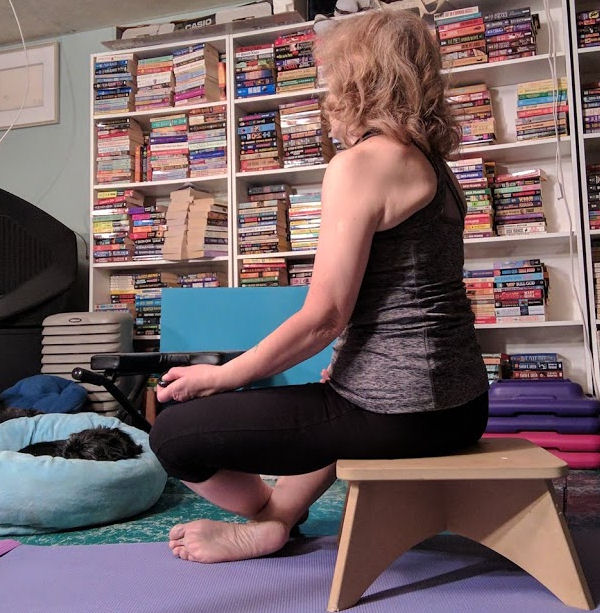 Then a little meditation. Just a couple of minutes. I use my own guided meditations. (I'm a fan of the water, so the River and Ocean ones are my favorites.) Eyes closed, seated comfortably – and not in the Lotus position. My knees don't move that way.
A couple of shoulder rolls followed. It was my regular workout time, so I changed and chose a really sweaty routine. I've written about focus enough lately that you know I was completely into the workout. (http://fitness-over-50.com/2021/04/no-one-is-watching-so-just-do-it/ ) And it was done almost before I knew it. A nice warm shower made me feel almost human again. 
And while I can't say that I was happy after all of that, I was definitely less sad.
So, it is possible to pull yourself out of the dumps. And trying these methods is certainly more appealing than wallowing in your own tears.