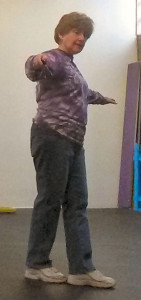 The best way to exercise is to do it and not even realize you're exercising! Many day-to-day activities can incorporate exercise. So you'll get a double benefit. You'll do the task you had to do, and you'll exercise while doing it! This idea is especially useful when your schedule is so busy you can't fit another thing in it!
For example – you have to walk to the garage to get in your car, right? Incorporate some toe-heel walking. Place the heel of your foot directly in front of and against the toe of your other foot. You've taken a step (okay, a small step) and you've exercised your balance. This is actually harder than it might seem, and it really does train your balance.
Another good functional exercise is to get up out of a chair without using your hands. Also harder than it might seem, and you're strengthening your legs. Try it on one foot, and you're doing all that and practicing your balance!
Try standing on your tip-toes and leaning to the side. Ever reach for something in a cabinet? That's what you're doing with this exercise.
Of course, no matter how you exercise, practice good posture – suck in your stomach and lengthen your spine!