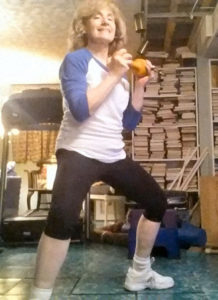 Your exercise routine, that is! As we age, it is increasingly more important to keep your muscles in shape. We don't want them to atrophy! Yes, cardio work is vital, but it's been proven that a combination of cardio and strength is most effective for overall fitness.
Body weight exercises are effective!
I have a set of free weights at home, because I work out there. But using your body weight can be effective as a tool also. A push-up is an amazing exercise that works the entire body! And a modified push-up is almost as good. Start with 3 sets of 8 push-ups from your knees. Hands should be directly under your shoulders. Make sure that your stomach is as pulled in as it can be, your body a straight line from knees to head – keep your butt tucked under! I started not being able to do a full push-up. I started on my knees and when that became too easy, I progressed to one leg straight, switching legs periodically. And when I could do that without a problem, I tried full push-ups. Not for a whole set, but maybe one full push-up per set. Push-ups are great for the arms, the back, the abdominal muscles – you name it!
Planks!
Planks and plank variations are great total-body strengtheners too! Stay in that full push-up position for 10 seconds. Work up to 30 seconds. And then a minute! These are especially good for the abdominal muscles.
Uh oh! Triceps!
Our triceps muscles are a major concern for many women, especially. A good triceps exercise that doesn't need special equipment actually uses a chair. Sit on a chair that doesn't move (no office chairs here!). Slide forward and support yourself with your hands on the front of the seat, arms close to the body. Slowly bend your elbows and rise back up again. Feel those triceps?
Use that equipment!
If you belong to a gym, or are lucky enough to live somewhere with a fitness room that has equipment, try it out! Those machines can give an awesome workout. Just make sure you get good instruction from someone who really knows how to use them. You don't want to hurt yourself trying to get fit!