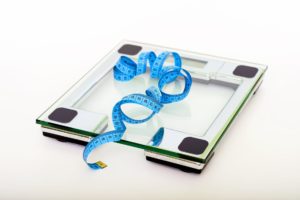 I never weigh myself. Maybe that's a bad thing. I have absolutely no idea what I weigh. My pants fit, so I'm happy. When my pants start to get tight then I start to restrict sweets and carbs a little more, and maybe step up the intensity of my workouts.
But I know that's not how many people operate. When my sister was losing weight, she used the scale as a tool. She would measure her progress by the scale.
It used to be that people on "diets" or weight-loss programs were taught to only weigh themselves once a week, if that. So often women, especially, can gain a pound or two of water in a day. That pound is extremely disheartening! We work so hard to lose weight that seeing the scale creep up can make all that hard work seem for nothing. Then we think, "What's the use? I can't lose the weight. I might as well have those chips." I did that. It was depressing to me to weigh myself every day. It was only seeing the weekly or even biweekly numbers that motivated me to keep going.
But now a Cornell University study has found that participants who weighed themselves daily and charted their results lost significantly more weight than those who did not. They were also able to keep the weight off.
Daily self-weighing and tracking "forces you to be aware of the connection between your eating and your weight," lead study author David Levitsky said. "It used to be taught that you shouldn't weigh yourself daily, and this is just the reverse."
The researchers found that self-weighing and tracking are simple ways to reinforce and strengthen positive behaviors such as eating less and maintaining regular exercise.
"You just need a bathroom scale and an Excel spreadsheet, or even a piece of graph paper," said Levitsky.
Even after the weight-loss goal was achieved, if you follow this program, you should continue to track your weight.
Do you think this makes sense? Will tracking your weight every day work for you?