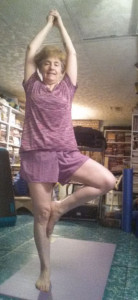 Did you know that breathing correctly helps you feel less tired? Yup, it's one factor that internist Dr. Holly Phillips identifies that proper breathing is one way to feel more energized in her book, The Exhaustion Breakthrough.
At least once an hour everyone should make the effort to breathe correctly, that is, consciously and deeply, from the diaphragm and not from the chest. Inhale fully and exhale fully. You'll stand straighter, with no slumped shoulders.
Check in with your body once an hour while you're at it. To start, set an alarm – your phone has one built in.  From the top of your head, down through your jaw, your shoulders and chest, your back and hips, your legs and your feet. Stop clenching your teeth and locking your jaw. Align everything. Put your feet flat on the floor. Check for any areas of tension or discomfort. And fix it! Poor posture makes you look tired and feel tired! Stand up and walk around. Then, when you sit back down, you'll be more energized.
Take 10 deep breaths when you sit down. Full, slow, diaphragmatic deep breaths. You'll be straighter and maybe even taller! Now reset your alarm and get back to work.