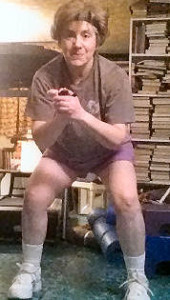 Do you hate to exercise? I'm not a fan either, but I do it because I like to do other stuff, as you know. But if that isn't enough of a motivation, and you know that you need to exercise, start small.
Just walk for 15 minutes. Or 5 minutes. If it's a nice day, just tell yourself that you're going outside and breathe for a few minutes. Pretty soon you'll be taking a few steps and you're around the block.
Starting small leads to big things! Tell yourself you'll do 15 jumping jacks, and pretty soon it's 30 because 15 is easy.
Tell yourself you'll jump for 2 minutes. Just up and down – maybe not even leaving the ground. And pretty soon it's 5 minutes. Full squats and everything.
Tell yourself you're just taking the dog for a walk. You're snapping on his leash and pretty soon you're both walking for 20 minutes. It's good for both of you! (Just don't forget pick-up material!)
It's finally starting to feel like spring here, and the garden needs work. Tell yourself that you're going outside for 5 minutes to pull weeds. Pretty soon you'll find that you've been outside working for a half hour. A few weeds turns into raking and cutting back, and who knows what else!
Just don't overdo it! If you haven't exercised in a while, and those 5 minutes of walking feels too easy, just do 6 and see how you feel the next day. The goal is consistency – if you're too sore to get up the next day, you're not going to exercise and then you'll forget all about it for the future. And that's bad.
So it's okay to start really small and build up. 5 minutes today, 10 minutes tomorrow. Then maybe add in a little jog for a few seconds and see how you go from there. Remember, there's no deadline!