Are you getting enough sleep?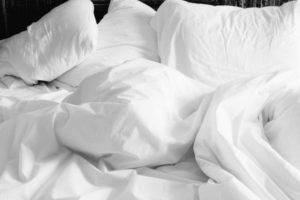 If you're an adult in the 21st century, chances are you're not getting enough sleep. Our screens bombard us. Our diets undermine us. The TV is blaring. The stereo is on. The dogs are barking, or snoring, or making some other noise. The outside light is penetrating our eyelids. Too many distractions are keeping us from the single most important, easiest thing we can do for our health.
You need sleep for your health.
Poor sleep is linked to weight gain
For those of us concerned with our fitness, studies have shown that poor sleep has a direct connection to gaining weight. It might be hormonal, or we may just be too tired to exercise or watch what we eat. But the fact remains that if we don't get enough sleep, we have a tendency to be fatter.
On the other hand, good sleep is linked to eating fewer calories. Food for thought!
Focus and productivity
Studies have also shown that people who get enough sleep have better focus and increased productivity. Good sleep has been shown to improve problem-solving skills and memory performance.
Athletic performance
Studies have also shown sleep to be directly correlated to speed, accuracy, reaction time and mental well-being among basketball players. On the other hand, not sleeping enough leads to slower speed, weaker grip and more difficulty in performing physical activities.
Other health risks
Studies have shown that not getting enough sleep causes a greater risk of heart disease and stroke, Type 2 Diabetes and depression.
The moral?
So, the conclusion we can draw is to turn off your screens, turn off the TV and the radio. Get better window coverings. Take the dog to the vet to find out why he's making all those noises! (You know that I won't tell you not to sleep with your dog!) Your health and your sleep are worth it.