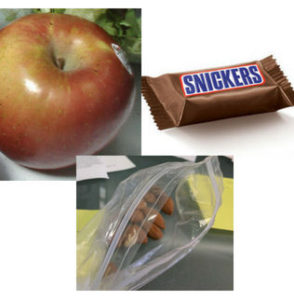 I've written about snacks before. About how snacks should be avoided if at all possible.
And I'm still usually a non-snacker. I don't think snacking is a good thing, as a rule. Especially mindless snacking. Shoving fistful after fistful of anything in your mouth without thinking about it is bad. I think that's inarguable. Agree?
BUT – I've come to believe that snacking is inevitable. It will happen. And snacks can be part of a healthy lifestyle.
So, be prepared for it!
In your refrigerator, have carrot or celery sticks (or both) front and center. Have grapes and apples all washed and ready to eat. Have snack bags of almonds ready to grab. In fact, I usually have a baggie of almonds with me – just in case!
That way, when the munchies hit, you'll be ready.
By all means, think about what you're doing, though. When a snack craving hits, ask yourself if you're really hungry or are you bored? If you're bored, go for a walk. Dance to a tune. Play with your dog. Clean up your junk drawer.
If you're hungry, have a drink of water first before you hit the snacks. Many times you're thirsty and don't realize it. It's easy to become dehydrated if you don't have water readily available. So take a drink. Have a water bottle or a glass of water by your side all the time.
Then wait about ten minutes – do something else and don't think about a snack.
If you decide, after those ten minutes, that you really are hungry, by all means go get a snack. And don't feel guilty about it!
This last Saturday, I did all those things and decided that I really was hungry mid-afternoon. So I ate a fun-size Snickers bar. I was really craving junk food. I drank some water. I took the dogs out. I read a chapter of my book. And I still wanted that candy bar. So I ate it! And, at only 80 calories, it was a good snack! It satisfied my hunger, it had some protein, chocolate and was delicious!