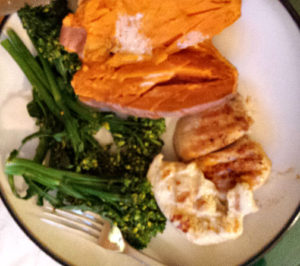 You try to eat healthy. You've even counted all the calories you consume in a day. You buy organic produce, eggs from cage-free chickens. You only eat beef from grass-fed cows. You've tried to cut out grains from your diet.
And still the weight stays on. You try running more, different exercise programs, and nothing seems to be working.
The solution may be a simple formula applied to your dinner plate. And it's so simple you'll think it can't possibly work. But it does!
A healthy plate is based on plants. One-half to 3/4 of your plate should be filled with plant-based foods. Plants provide fiber, vitamins and minerals for nourishment. And the plants can be fruits, vegetables, beans, legumes, seeds, nuts, and whole-grain foods. Plant-based eating is in line with guidelines set out by the USDA's Dietary Guidelines for Americans.
Look at my plate above. Most of the plate is broccolini and sweet potato. Not a lot is chicken – and that's lean chicken, no skin! Healthy and tasty, to boot!
Plus plants have fewer calories than meat protein and simple carbohydrates.
Think of all the time you'll save by not counting calories!
Of course, like everything else in life, I believe in moderation. So my healthy plate works for me most of the time. I do indulge in pizza and chocolate cake. Just not all the time!