You have your family and a circle of friends. Your teachers and mentors are, of course, invaluable. You've got lots of acquaintances. And there are the influencers you follow every day on Instagram, Facebook, and any other social media platform you subscribe to. No one is going to do it for you. And you know that there are loads of reasons to exercise – including improving your memory and reverse mental decline!
None of these people are going to exercise for you.
You have only yourself to rely upon.
You read everything you can about weight loss. Intermittent fasting. Mediterranean diet. Paleo. Vegetarian. Pescatarian. Low carb. Yes, they all work. But no one is going to do it for you. You actually have to do the work yourself.
The nitty gritty
Once you really decide that it's up to you to get off the couch and exercise, you really have to do your homework and figure out exactly what you're going to do. As many exercise pros as there are out there – that's how many programs there are. Chances are a lot of them are really good. But you have to figure out exactly what you're going to commit to.
Commitment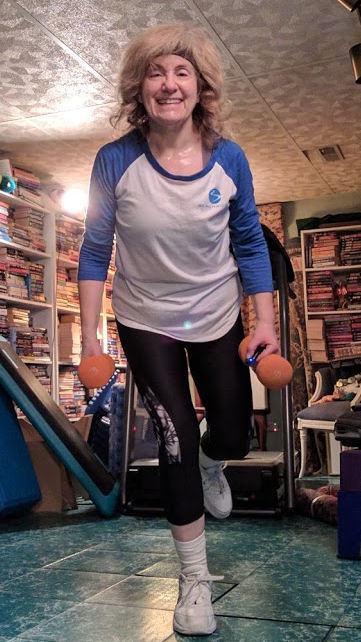 Because it is a commitment. I can shout from the rooftops that exercise is absolutely necessary to avoid the most obvious signs of aging – weight gain, loss of muscle tone, loss of balance – you have to do the work. And no one is going to do it for you.
Yes, it's work. I'm not going to sugar-coat it and tell you that it's not work. Because I'd be lying. 
And you have to do it almost every day. I don't exercise every day, so I can't tell you to do something that I'm not willing to do. The CDC says that you need 150 minutes of moderate-intensity aerobic activity plus 2 days of total body strength work. That's 30 minutes 5 days a week of moderate aerobics plus muscle strengthening work on 2 days. I do more vigorous aerobics and combine that with weight work 5 days a week. Most days I do 30 minutes.
If you're new, don't go all-out. Work up to it. You don't want to wake up the day after you exercise and not be able to move. That completely defeats the purpose!
Choose something you can live with – for a long time
Choose a program you can live with for a long time, because you're going to be doing it for a long time. Remember – no one is going to do it for you, so you're going to be listening to that music and that instructor's voice (if you're going with a group class – either live, streaming or DVD) most days for a long time.
That's not to say that you have to live with your first choice forever. If, after you've given the program a couple of weeks and find that you really can't stand it – by all means change it.
And, it is a good idea to change up your routine every once in a while. I rotate the types of workouts I do every couple of months. Both for variety and to give my muscles a chance to experience new growth.
So – be happy with your exercise choice. Because you have to live with it and do it.