7 early morning things to jump-start your weight-loss journey:
1. Get plenty of sleep! You'll be full of energy, which will help you stay on track. If you're tired, you're more likely to reach for whatever's easiest, like those chocolate chip cookies.
2. Catch some rays – just a bit. Sunshine helps increase your energy level which boosts your metabolism. Don't lie in the sun, just lift your face to the sunshine as you walk to your car. And when you reach your destination, do it again. It'll lift your spirits and boost your metabolism.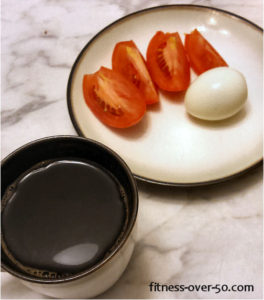 3. Eat protein – lean protein also helps boost your metabolism! Egg whites are great for breakfast.
4. Drink water with your breakfast (after coffee…) more water helps fight bloat!

5. Pack snacks – pack healthy snacks for your day. A few almonds, celery or carrot sticks will help you avoid the vending machine. 10 almonds are just as satisfying as a fun-size candy bar – and much healthier.  A little thought saves a trip to the vending machine!

6. Get moving – try to fit in 20 minutes of exercise early – another metabolism booster! And just think how virtuous you'll feel, having exercised before work. You'll even have more energy before lunch.

7. Walk part of the way to work. Add to your exercise regime! And take a flight or two of stairs instead of the elevator the entire way.