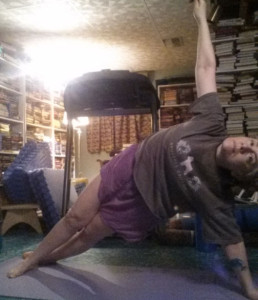 Whatever you do, keep moving. To stop is to atrophy. And to atrophy is to die.
I know, there are some days when it just hurts to get out of bed. I have those days too. From the bottom up and the top down. Neck hurts. Shoulders hurt. Back hurts. Hips are killing me. Knees hurt. Even the ankles hurt.
But that's no excuse! Whether it's arthritis, bursitis, muscle soreness or just sleeping funny. Get up, get dressed and move!
I know it's not easy. Life isn't easy. But the more you move, the less you hurt. Those first steps to the bathroom are slow and uneven. Maybe I'm even limping a little. But by the time I finish my morning ablutions, it's a little better. And then when I'm dressed and the dogs fed, it's better still. And by the time I finish my coffee I can face a short walk. And then I can work out.
And don't skimp on the workout! You're cheating yourself if you do! Yes, modify the moves. Yes, take a break when you need to. (If you're doing a DVD exercise program, hit pause – again, you don't want to cheat yourself!) Drink plenty of water during the breaks. But don't cheat yourself!
And when you're done, chances are you'll feel great! Or, if not great, then at least you'll be proud of yourself for finishing!