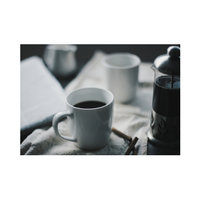 It's not just for breakfast any more! Coffee can improve your workout, researchers have shown. Researchers conducted a study in which a sample of inactive men were monitored biking with and without caffeine. While the men said they put forth the same amount of energy whether or not they had consumed caffeine, the results revealed faster cycling rates after caffeine consumption. Another set of researchers conducted a study and found participants who had caffeine before a workout had an easier time holding back cravings. In fact, those who had caffeine ate 72 calories less after the workout than those who hadn't consumed the stimulant.
I don't think it's surprising. The caffeine in a cup of coffee will boost your energy and help you stay awake, so it'll give your workout a boost too. You don't even realize that you're working harder. If you're not sleepy, then you can pedal (or run) faster. The caffeine also boosts your stamina – letting you work longer, getting in that extra mile (or half-mile for me!)
Heidi Skolnik, a sports nutritionist, also says that coffee also increases the release of dopamine and other feel-good neurotransmitters. So you can work past what you might otherwise perceive as pain or weakness. The benefit of coffee to your workout starts about an hour after you drink it.
Now, don't go crazy! Putting in lots of cream and sugar or other calorie-laden additions might taste really good, but the extra calories will outweigh any benefits the caffeine will give you. A little milk is good though – the protein and carbohydrates it adds will help kick-start your brain!
And remember to drink water while you're exercising. It's important to stay hydrated, and coffee alone won't do that! Get a good night's sleep, and drink plenty of water and you'll get the most benefit from your workout.