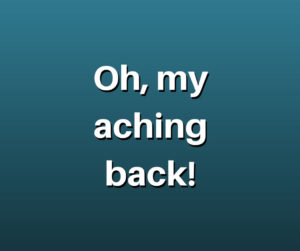 Does your back hurt? Sometimes mine does. And if you do any of these things, you could be hurting your back even more –
1. Do you carry a heavy shoulder bag? Is your purse dragging you down on one side? Do you have so much in your bag that you grunt every time you pick it up? It may be time to clean it out…
Or switch sides. If you alternate sides, it changes the strain on your spine. I can't switch sides, though. Carrying stuff on my right shoulder just feels wrong. How about you?
Or switch to a backpack. There are some cute ones out there!
Performing other repetitive physical activities the same way can also make your back pain worse.
2. Do you bend over and pick up a heavy load? Don't do that! It puts pressure on your spine and may push out disks in your lower back.
Instead, squat with your back straight and your chest up to pick something up. Let your legs do the work! Now, I'll grant you – picking a dog up this way is a little tough. That's one of the reasons I taught my Tango to jump up so that I can catch him!
3. Do you sit for long periods of time without a break? Or stand in the same position? And then when you move your back feels stiff?
Get up and move around! Take a little walk! Change positions and move at least once an hour!
4. Do you think crunches are the only ab or core exercise worth doing and you hate them?
Think again – there are lots of core exercises that will help your back as well as your abs!
Don't neglect your core. Your back will thank you!
I'll give you some great core strengtheners a little later, but to start, try the plank. It's a great core booster. Start on your hands and knees – hands directly under the shoulders. Now walk your feet back so that your body is in a perfectly straight line. Your rear isn't sticking up or sagging down. Pull in your stomach and tighten your butt. And hold. Don't go crazy here. If you can hold plank for a minute, that's great!
5. Do you feel a twinge when you twist or move funny? If, when you move, anything feels wrong – STOP! Don't do that! Don't go any further. Come back slowly to where you started. If anything feels funny, it probably is. If you're trying to lift or move something big or heavy, get help!
You know your back best. Don't do anything that feels funny or weird.