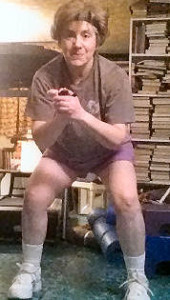 The 21 Day Fix is a complete fitness and nutrition program. 7 30-minute workouts (one for every day of the week) plus a bonus abdominal workout. And a schedule so you'll know which workout to do on any particular day. And the workouts are fun, even for beginners! And for beginners, every exercise is modified by a "class" participant on-screen. You'll get stronger every day!

21 days of clean eating. With simple portion controls, and easy recipes, anyone can do this! It's even possible to lose 15 pounds in 21 days, especially combined with drinking Shakeology every day. Everyone's results are unique. I lost 4 pounds in my first 21 days. I'm keeping them off by sticking with the nutrition plan. Calorie counting is out, the portion containers make it easy to know how much to eat! You can prepare your meals and take them in the containers on the go.
You'll need two sets of dumbbells (light and heavy) or a resistance band (not included).
For the 21 Day Fix Challenge Pack that includes Shakeology at a special price, click on the words "Challenge Pack." Save over individually purchased items!