If something is nagging at you, and you seem to always be thinking to yourself, "I really should …" Just get up and do it.
No matter the "it"
No matter what the "it" is – you'll be so much happier and productive if you just get it done.
Exercise? Do it.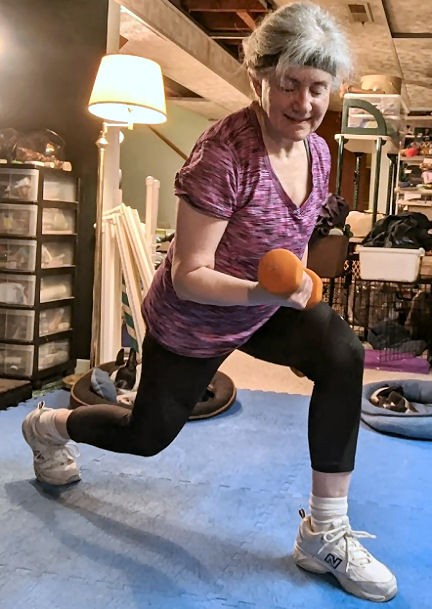 You tell yourself, "I really should exercise." Get up, change into your workout gear, put some music on and move. Need something more structured? The next time you have 10 minutes free at your computer, search up some 30 minute workouts on YouTube and save the links on your Google Drive. Or subscribe to PopSugar Fitness. They'll send you an email every day that usually includes a short workout on their site from a top fitness trainer. 
Eat healthy? Do the planning.
You get take-out every night and you're tired of it. "I really should cook something healthy for dinner." This requires a little more planning but depending on what's in your pantry, you can do it on the spur of the moment. Just Google "healthy eating recipes" and you'll get too many choices. You may want to take a close look at a few of the recipes you find with this search for the future. Save your favorites, make a shopping list from them and you'll be set for a few days.
Organize the closet? Start now.
Every day you reach into your closet and encounter a tangle of hangers and clothes and you think to yourself, "I really should clean out my closet." That prospect can be overwhelming. The good news is that you don't have to do it all at once. It may be cathartic to clean out an entire closet at once, but that can take hours. If you don't have hours to spend on the task, take 15 minutes and grab a handful of that tangle. Only save the items you absolutely positively know you'll wear again. The others go in separate bags to donate and pitch. During this process you'll have more of a mess, but it will give you more motivation to finish.
Yes, Nike has it right – this isn't the first time I've used their slogan: http://fitness-over-50.com/2020/12/just-do-it-and-that-means-exercise/
Get up and do it.
Get one thing done. What a sense of accomplishment! And it will give you a reason to do it again tomorrow.