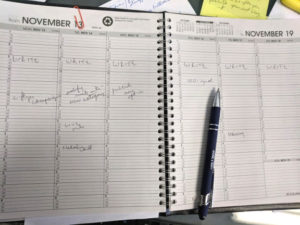 As we get older, too many things can be buzzing around in your brain. I know that's true for me. I keep thinking of things I have to do. Chores to be done. Things to pick up at the grocery store. What happened today in the news to make me want to smack my head. What new rule the credit card processors put in place to make my life more miserable? Bills I have to pay. Training I want to do with my dogs.
And the list goes on and on…
I'm sure you have one too. That list is never-ending.
But it's not the most important thing.
Choose one thing that you MUST complete. Just one. Not two. One single thing. And write it down. Perhaps in your calendar, as I do, since it's the first thing I look at every day. Or maybe a post-it that you stick to your bathroom mirror.
Make sure that it's something that can be completed in a single sitting (60 – 90 minutes). If there's a huge task weighing on you, break it up into manageable chunks. And choose the first one.
And do it. Just that one thing. To completion.
You'll be focused on that one thing to the exclusion of everything else. If you find that your mind is wandering, chances are that you haven't defined the task narrowly enough. Or you've been sitting for too long. Set a timer for five minutes and walk around a bit.
And then when it's done, get up, stretch, take a drink of water.
And revel in its completion. And move on to something else.
If you get up in the morning and the merry-go-round starts in your head again, it may be a good idea to write that one thing down before you go to bed.
When you can do that one thing that you've written down with consistency, you can write three things down that must be completed that day (or the next day if you prepare your "Must-dos" the night before).
If you tackle tasks like this, you stay focused. And when the task is completed, you'll have a tremendous feeling of accomplishment. You'll feel better about yourself, and your remaining tasks don't feel quite as daunting.