Fitness means something different to everyone, I think. It could be that what I think of as being "fit" looks like a total slug to someone else, or a workout maniac to a different person.
I think that being fit means being able to do the things you want to do. I want to run around and play in the backyard with my dogs, so if I'm able to do that, I'm fit. Step it up a notch – I want to compete with my dog in agility, so I run on the treadmill a couple of times a week in addition to other workouts. If I can do that, I'll consider myself fit.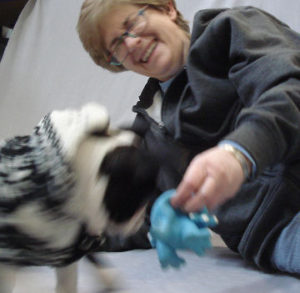 And when I'm working at the shop, I need to be able to demonstrate products to customers, and that means being on my feet. And when we get in a new product, I need to be able to work with our dogs who model them – and sometimes that means getting down on the ground to keep a puppy's attention! (Like baby Booker, in his very first modelling gig!)
I want to travel and be able to see the sights on foot. That's a different level of fitness than seeing the sights from a tour bus. But, some level of fitness is still required to be able to fly to that destination and get on the tour bus. I want to take long hikes and really see the countryside in places I visit. That requires, again, a stepped-up level of fitness. Perhaps one day I'll visit my cousin in Scotland. And another cousin in New Zealand!
And I want to be able to eat delicious destination foods wherever I travel. If I'm hiking, I figure I can afford the calories!
But, mostly, I just want to be able to be comfortable. I want to not be in pain, and I know that I need to be active for my knees and hips to not hurt. I need to be at a healthy weight, too, for my joints to be healthy. And I want to do the things that I want to do, without even having to think about whether or not I can do them!
What does fitness mean to you?